Every region has its own idioms. One of the interesting things about living in several different places is hearing and coming to understand these phrases and expressions that aren't perfectly clear to non-natives. Where we live currently, people "pop over." As in, "Could the kids and I pop over for a play date?" or "Why don't you pop over for tea sometime next week?" I haven't yet gotten up the nerve to invite anyone to pop over for popovers, but maybe someday I will.
When I saw the
Oliver + S Popover Sundress
on
BurdaStyle
, I couldn't resist downloading and making it. It would be perfect for my daughter to pop over her head and be looking cute when someone does pop over for popovers!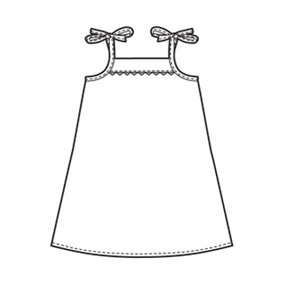 It's a free download, available in sizes 2-8. The front is exactly the same as the back, so there aren't all that many pieces of paper to tape together. The instructions are good - something I was glad to see since I just ordered two
Oliver + S
envelope patterns.
The fabric is a lightweight cotton/poly blend and using it was the only difficult part of this project. It didn't press well (
look at that side seam below, ick!
), which made making the bias straps more complicated than it needed to be. But, it was good to use the fabric - someone gave it to me years ago when they were clearing out their own stash.
The front and back are exactly the same, trim and everything.
The top is a sleeveless version of
Kwik Sew 2918
. Pebble piping finishes the arm and neck holes just like
these
shirts
, but I could not find the original instructions on the Kwik Sew website anymore. I also made shorts to be worn under the dress of the same fabric as the top from Burda 9615.