Last spring I decided I wanted to make a white denim jacket in the traditional jeans jacket style. I never got around to it, but returned to the idea this year. My plan was to use
this pattern
and when I went to the site to download it, I saw
this moto-style jacket
and was quite taken with it.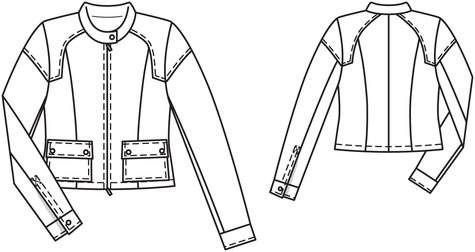 The fabric I used was a lightweight denim with a lot of stretch. Too much stretch. In hindsight, it's clear that I should have interfaced the bodice pieces to control some of the stretch. I think it will be comfortable to wear, but it was frustrating to work with.
I quilted a block of the denim before cutting out the shoulder insets and upper sleeve pieces. I'm happy with how it turned out. I used a heavyweight thread and was pleased with how well it worked. When it came time to topstitch, it didn't work nearly as well and I had to do some switching around between machines, types of needles and thread. Eventually, I found an arrangement that worked, but a lot of the topstitching on this jacket is sub-par.
The inset corners on the shoulder pieces were a little tricky, but not impossible. With good marking, stitching to reinforce corners, clean clipping and precise stitching, they come out fine. The pieces are drafted well and fit together nicely.
Now let me tell you about this sad little pocket. The other one is pretty sad, too. This pocket is supposed to be a rectangle with 90 degree corners. That isn't really complicated. But, this stretchy fabric would not allow it. This picture doesn't really tell the whole story, but the bottom corners of the pockets wing out a bit, producing more of a trapezoid than a rectangle. My stabilizing efforts were too little too late and also made it difficult to rip it off without ruining the jacket front. The bottom edge should be parallel to the hem. It's not.
Then there are the snaps. I bought some snaps for this project, but they were just too small. So, I went with these heavy-duty ones that I had in stash. These snaps caused some heavy-duty heartache. That big dent in the one snap is just operator error - pounding it on the wrong surface. Doh! But, once that thing is in, it's in. The other snaps are dent-free, but they don't snap! I can't get them closed! I have no idea what the issue is. I've used these on kids' clothes and they aren't ever fabulous, but they do close!
The pockets and collar don't need to close, so that isn't a deal breaker, but I do need the cuffs to close. Rather than risking more bum snaps, I used jeans buttons and put buttonholes in the cuffs. Certainly not ideal for overall cohesiveness, but much better for function.
This jacket is so riddled with mistakes and frustrations that I nearly abandoned it a few times. I haven't worn it yet, but I'm hoping that I can get over the issues. I'm not perfect and I don't make perfect things. I do really like the style.
A few notes about the pattern...
This is a tall pattern, but it is a cropped jacket. I added 1 3/8" to the bodice length at the waist so that it would match the zipper length and I wouldn't have to deal with shortening it. The sleeves are just long enough without alteration. I actually wouldn't mind another 1/2" in sleeve length. (I'm on the low end of Burda's tall sizes, but have very long arms). I shaved off 1/4" from the back yoke along the armscye as the shoulders were too wide in the muslin. I also raised the armhole 3/8". Low armholes are kind of a deal breaker for me.
When the jacket is on me, there is a slight bit of extra fullness between the bust and shoulder. I've removed that already from the pattern pieces, because I think I'd like to make this again - in black with leather at the shoulders and sleeves. I should probably wear this one a few times and see how I like it first!