In
this post
, I mentioned my wanting more fall/winter dresses. Here we have the second dress in this "Dress Warm" project. For this one I opted to use a warm fabric and chose a design that would allow wearing a cami underneath for an extra layer.
The pattern is
Simplicity 2406
, view C. I previously made view B
here
. I used a dark green fine-wale corduroy fabric that I've had in my stash for years. It's so soft and more drapey than most corduroy. I've considered using this fabric every winter for the last few years, but haven't felt like I found the ideal pattern for it. I'm making a concerted effort to sew up stash fabrics and not hoard them out of fear of not getting it perfect. So, did I choose the perfect pattern? I don't really think so, but I still like the dress and a dress in my closet is more satisfying than flat fabric on a shelf.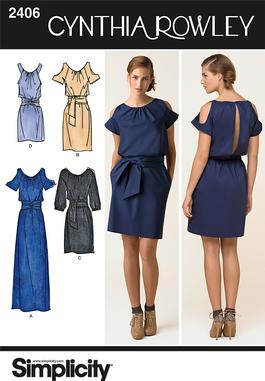 I had just enough fabric to make this dress - only small scraps left, so no matching sash. This is an extremely easy pattern to sew up. I did add length to the sleeves and the hem and closed up the back seam all the way to the neck (we're going for warmth here and the opening isn't necessary to get the dress on and off). Because I thought it might be helpful for fitting, I did keep the back seam, but ended up just leaving it straight. If I made it again and had enough fabric, I would consider putting it on the fold.
I don't have the next dress planned yet, but it will likely be something to wear with leggings. After all the leggings I've made for my girls, I'm finally cluing in that they might be something I'd like for me!