I've been interested in trying some silhouettes and styles that I don't currently have in my wardrobe. I'm not a big risk-taker by nature and I really value my sewing time, so I generally stick to fabrics and patterns that I'm pretty certain I'll like. It is starting to feel like everything I wear is pretty much the same, just in different colors. Much of the time I'm okay with that because I only keep clothes that I really like, but I've been wanting something different lately.
For this tunic, I combined two patterns:
Kwik Sew 2856
and
New Look 6731
.
I used the neckline and raglan sleeve seams from the Kwik Sew pattern. I used this pattern before
for a sweater
and remember really liking the neckline (the sweater didn't stay in my closet for long – I loved how the fabric looked, but despite pre-shrinking, it kept getting shorter and wider).
The length and style of sleeves came from the New Look pattern as did the bodice length. After checking the pattern tissue against my arm, I added 2" in length to the sleeves, but it wasn't enough. The sleeves feel too short on me. It was hard to tell how much would need to be added for the part above the wrist to drape well.
I had pictured this top being a bit shorter than I actually finished it. When I tried it on to check the hem length, I pinned it up about four inches. That put the hem right at the widest part of my hips and pretty much at the same length as the sleeves – not a flattering spot. Given the color, I feared looking a little too much like this guy: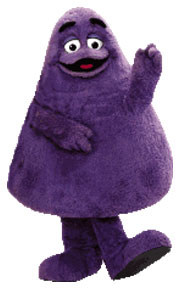 So, I left it long and I'm happy I did. The purple knit I used has been in my stash for several months. I bought more than three meters of it when it was a really good deal. It isn't as heavy as a ponte knit, but has a similar look.
For the most part, I am happy with the final product. I'd like the sleeves to be longer, but the top is comfortable, surprisingly warm, and different from my other clothes. It also felt a lot like instant gratification sewing, which I was feeling due for.