Here's another Kwik Sew pattern that I use over and over again, but it is out of print now. These are very basic pajamas, for knit fabrics. My daughter found this fabric in my stash and said she wanted me to make something for her from it. That's pretty hard to resist, so I made these for her birthday.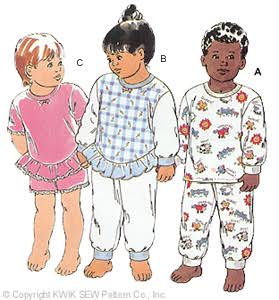 The pants don't have an outer leg seam, so they are really fast to put together. The pattern for the short sleeve doesn't have a hem allowance as it suggests finishing it with lace. I didn't want to include the lace, so I added the hem allowance.
I wish I could say that the neckband and pants cuffs match better in real life, but they don't. Actually, they probably look worse than in the picture. But, I was working with what I had on hand. It's not like running to Fabricland would have helped anyway. I'm sure they wouldn't have had a better match. The fabric is a poly knit that I picked up at a
Field's
tent sale a couple of years ago. I'm sure it wasn't more than $1/yd. It isn't exactly high quality stuff, but my daughter really likes the pink and the butterflies, so I guess we can consider this a success.
Whenever I take a picture of my kids in their new clothes they ask if I can take a "silly picture" at the end. I thought this one was particularly cute...